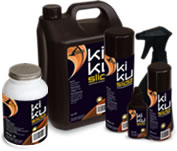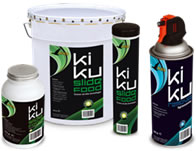 KIKU Lubricants
KIKU presents a range of innovative lubricants and detergents, ideal for a variety of uses in the work and private environments.
Available in various sizes and packaging.
Our product can be defined a "HIGH TECHNOLOGY LUBRICANT" due to its molecular make up.
The product is made up of micronized and polarized molecules, which create a film that can resist temperatures raging from -53° to 246°, and able to offer a coefficient of friction of 0.08, and also to bear a pressure and friction of over 1.697 Kg per squared centimetre.
The film left over by the oil, made with an extremely flexible plastic element, adapts and takes the shape of the weight to which it is subjected. The lubrication obtained is dry, giving an iced-wet effect. It doesn't leave the surface greasy and it doesn't stain, considerably reducing friction and wear of the parts where it applied.
Thanks to its characteristics, it is also used to UNBLOCK, lubricating at the same time. It reduces considerably maintenance time, increasing usage time of the treated part. It is especially suitable when there is a lot of dust, salt and humidity present. The film applied, has antistatic properties, which give excellent PROTECTION to steel, copper, aluminium, wood, rubber, plastic and any other material, against dust, dirt, abrasive particles and acidity from hands.  
It doesn't allow oils or other similar elements to attach themselves to treated surfaces, therefore being easily removed. It is a great DETERGENT, thanks to its power to penetrate pores and bring to the surface any dirt found inside, which is then easily cleaned.
Due to its waterproof properties, water is not absorbed, and therefore no scaling or other deposits can form. These characteristics added to its non-toxic factor, with H1 food certification and with pharmaceutical certification, highlight the uniqueness of the product.